When you mention hot sauce, Chef Joseph's Original Chicago Style Kick Sauces should come to mind. Ours is a product that can compete with the best of the best! Chef Joseph's Kick Sauce can be used on everything. When we say everything, we mean everything! That is everything from fish, fried or baked, including salmon and tuna; rotisserie chicken; pork chops, however you like them; Ribs, Chili Beans, and Vegetables! The list goes on and on! Chef Joseph's Original Chicago Style Kick Sauces also add that extra ZING you've been craving; enhancing the flavor of your favorite Vegan Dishes! We manufacture our products with the utmost admiration for our customers, promoting Better Health with the addition of tremendous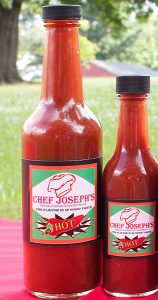 flavor!
​​Ours is a unique, distinctive taste that must be experienced, as it cannot be adequately described. But, the one thing we can promise is that you will return, over and over again. We've taken special care to brew and steep our sauces with the freshest, finest ingredients that easily boosts its flavor to the 9th degree, starting with the unique taste of "Mango Habanero Peppers." Our enjoyment comes from taking these ingredients, blending them just right to obtain a "Time Released Kick" that is executed with the Pizzazz of Chicago, The Bark of Blazing, The Sweetness of Mango, The Rise of Habanero, in addition to the "357" from which the kick is derived!
Make Chef Joseph's Original Chicago Style Kick Sauce the #1 choice for your premium Kick Sauce!
N E W   R E L E A S E
Chef Joseph's Hot Kicker Kick Sauce
Chef Joseph's Hot Kicker Kick Sauce with an estimated 180,000 scoville units! This product has
triple the heat than our original "Hot Kick Sauce" and is packed with flavor, heat, and intensity! This product is vegan-friendly.
Chef Joseph's Seasoning 
If you want to take your meals to the next level simply add some "Extra Kick." Try our Chef Joseph's "Original Seasoning." This seasoning is good and groundbreaking and is sure to kick-up the flavor of your favorite meals and dishes! Try it on your favorite meats, fish, veggies and casseroles. Our seasonings can be used interchangeably alongside with our Kick sauces for a double dose of "Maximum Kick-Up Satisfaction." Simply sprinkle or rub our seasoning on your food before or after cooking in order to create a magnificent flavor that is sure to enhance your taste buds! These products are in a Class of their Own!
The Hot Kicker
The Chef Joseph's Exclusive "Hot Kicker" Kick Sauce packs tremendous heat & flavor; measuring 180,000 heat units on the Scoville Scale of pungency; making it one of the BEST hot sauces in its class. Pound for pound this "Hot Kicker" Kick Sauce is blended with Habanero Peppers, a touch of the Ghost Pepper and Mango, making it several degrees hotter than our original "Kick Sauce" Get ready to ride the ropes with a series of jabs and uppercuts – without the all anticipated knock-out punch – as you steadily enjoy every single bite of your meal!
The Heat, Flavor and Intensity, along with its "Unique Time Released Kick" of this Kick Sauce will leave your mouth watering – Wanting More and More…It is a Must Try, Must Have!
Heat Lovers Only Please!
Caution: These Products are Considered to be Hot and Spicy !!!