You may schedule one of our "Workshops or Recipe Development
Consultations" for your Ministry or Business Organization. Our featured
seminars and event workshops include:
Chef Joseph's Food & Recipe Development Workshop  – Taking your recipes and food ideas to the NEXT LEVEL!
Chef Joseph's for Kids Workshop – This workshop is designed to teach our youth how to visualize and build their own businesses starting at a young age!

You may schedule each event individually or as a package.

Our workshops are ideal for schools, ministries, or private booking events.
For Seminars, Events, & Bookings, email us at: events@chefjosephskicksauce.com
---
We also offer one-on-one business consultations. Our featured consultations include:
Chef Joseph's "How to Setup and Brand Your Food Business"
How to develop your "Recipes and Value Added Products"
How to build your 1st "Food Truck or Food Trailer"
You can book a one-on-one consultation session at this link:
www.calendly.com/chefjosephskicksauce
---
Chef Joseph's The Entrepreneurs Guide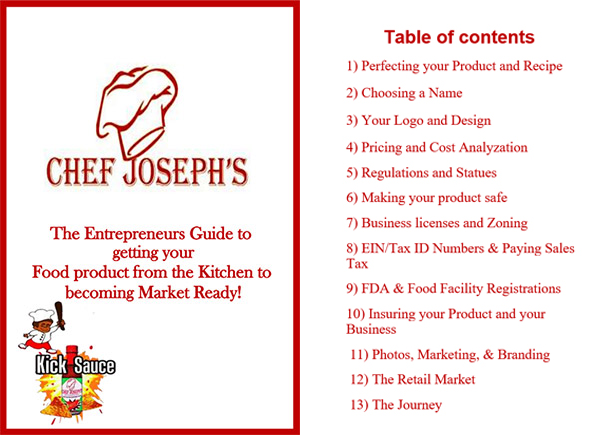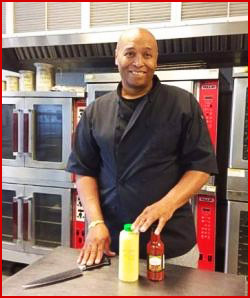 Hello, my name is Darrell
Along my journey I have met many people who have created great food products or had a great idea for a food product. But unfortunately, they did not know what it takes or had the determination and the courage to getting their food product or products from their kitchen to the retail market.
If you are determined with the power of belief and serious enough, these are some of the things that you must consider. There are hundreds, thousands, and perhaps millions of people who have done so. My sole purpose of this material is to give you a step by step process of what it will take to get your food product or products from your kitchen to becoming "Market Ready". What is contained in this book will give you the "General Blueprint" and will save you time and hundreds of hours of leg work.
These are the steps that I went through along with my personal hands on experience and is a proven system that I used to Build and Brand my company and I'm sure it will be very helpful to you.
Let's get started!
N E W   R E L E A S E
Chef Joseph's Hot Kicker Kick Sauce
Chef Joseph's Hot Kicker Kick Sauce with an estimated 180,000 scoville units! This product has
triple the heat than our original "Hot Kick Sauce" and is packed with flavor, heat, and intensity! This product is vegan-friendly.
Chef Joseph's for Kids
Tomorrow's future is in the hands of the next generation of youth; young "Innovative Entrepreneurs" who will be picking up the torch where we left off. Having been equipped, infused and designed to handle "Futuristic Technology," coupled with opportunities not available to prior generations; these young entrepreneurs have a great future ahead of them, where the sky is the limit.
As such, it is incredibly important that their gifts and talents be harnessed and developed in a concentrated safe environment; one that encourages identification of their purpose and accomplishment their mission through proper mentorship. Our young entrepreneur "Kidpreneurs Program" is designed for youth ages of 7-16. The program is a high-interest workshop that includes interactive stories of other young "Kidpreneurs" who have attained high levels of success!
If you are a parent and see that your child has a unique creative ability, anointed gift, or has a desire for innovation in business, and you want to see that gift developed in your child, consider registering or setting up one of our "Chef Joseph's for Kids Workshops" through your church, ministry, or youth group organization. Do it for them and their future: a future that can be bright and filled with the hope and promises that have been granted to them!
Chef Joseph's Presents
The Adventures of Bam – A Six-Part Series Comic Book Pack
This is a 6-part comic downloadable Ebook series of a little Kid Chef named Bam who finds his culinary talent in the kitchen while experimenting with recipes at a young age. Bam eventually goes on to start his own business, manufacturing and selling his own "Kick Sauces" at the marketplace!

Copyright © 2021  ISBN: 978-0-578-95440-0